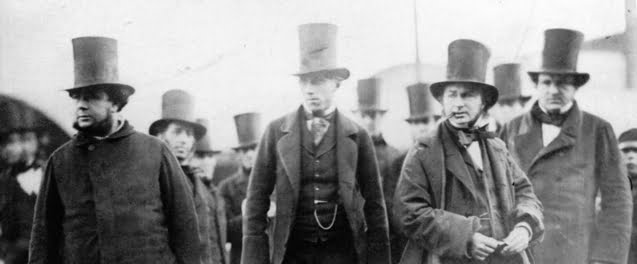 Brunel's dream ticket, from London to New York
On this day in 1806 the engineer and designer Isambard Kingdom Brunel was born. His works such as the Great Western Railway, numerous bridges and tunnels, are still in use today.
He also designed iron propeller driven steamships that broke the mould and made regular safe transatlantic crossings possible.
It was Brunel's conceit to extend travel on the Great Western Railway as far as America. By this he meant that travellers could purchase a ticket in London, travel by rail to Wales and there embark on a steamship (the Great Western) and continue to New York. In 1836 this became a reality.
Brunel married and had children but died of a stroke at the relatively young age of 53; he had always been a heavy smoker and was often photographed with a cigar. Here is a poem by William Blake, a bit of a Luddite, who died when Brunel was 21 , I see the Four-fold Man:
I see the Four-fold Man, The Humanity in deadly sleep
And it's fallen Emanation, the Spectre and its cruel Shadow.
I see the Past, Present and Future existing all at once
Before me. O Divine Spirit, sustain me on thy wings,
That I may awake Albion from his long and cold repose;
For Bacon and Newton, sheath'd in dismal steel, their terrors hang
Like iron scourges over Albion: reasonings like vast serpents
Infold around my limbs, bruising my minute articulations.
I turn my eyes to the schools and universities of Europe
And there behold the Loom of Locke, whose Woof rages dire,
Wash'd by the Water-wheels of Newton: black the cloth
In heavy wreaths folds over every nation: cruel works
Of many Wheels I view, wheel without wheel, with cogs tyrannic
Moving by compulsion each other, not as those in Eden, which,
Wheel within wheel, in freedom revolve in harmony and peace."
Today I ask that I will recognise the inevitability of progress and change while respecting the legacy of the past.