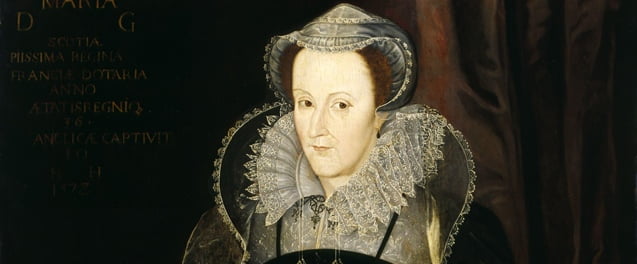 Mary Queen of Scots' unhappy end
On this day in 1587 Mary Queen of Scots was beheaded at Fotheringhay Castle in Northamptonshire. When her time came she appeared serene and smiling but angrily refused the attentions of a Protestant cleric. It took three blows of the axe to sever her head and when the headsman lifted it, her hair was seen to be a wig covering cropped prematurely white locks. Her lips continued to move for 15 minutes. When they lifted her body, her pet dog, a Skye terrier, was found hiding beneath her skirts.
Reactions to Mary's death were surprising, though probably politically motivated. Elizabeth, who had signed the death warrant, professed herself to be furious that she was not informed of the execution. In Scotland, Mary's son James, seeing himself in line for the English throne, is said to have barely reacted at all but to have 'continued with his hunting and other pastimes'. It could be said that Mary was lucky to have had a quick death. The conspirators in the Babington plot to kill Elizabeth (Mary's alleged involvement was the reason for her execution) were brutally eviscerated, hung, drawn and quartered at the Tower of London.
This poem, The Housedove, was written by conspirator Chidiock Tichbourne:
A silly housedove happed to fall
Amongst a flock of crows,
Which fed and filled her harmless craw
Amongst her fatal foes.
The crafty fowler drew his net –
All his that he could catch –
The crows lament their hellish chance,
The dove repents her match.
But too, too late! It was her chance
The fowler did her spy,
And so did take her for a crow –
Which thing caused her to die.
Today I ask that I will be steadfast and brave in all adversity and not seek to blame others.