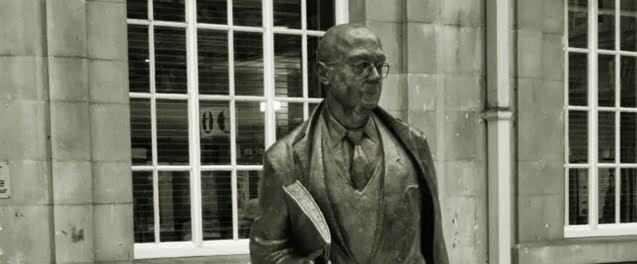 Philip Larkin, poet of low expectations
To listen to this post, click here – 
On this day in 1922 Philip Larkin, poet, writer and librarian was born.
Dubbed the poet of low expectations, he once said that deprivation was to him what daffodils were to Wordsworth. His poetry has great humour though often downbeat in content. He worked most of his life in the university library in Hull. The discontent with his lot that this engendered was expressed in many of his poems. Larkin was a very English poet in content and outlook, who once said: "I wouldn't mind going to China if I could come back the same day". A E Housman was another very English poet.
This one of his has a flavour of Larkin,  From The Wash:
From the wash the laundress sends
My collars home with ravelled ends:
I must fit, now these are frayed,
My neck with new ones London-made.
Homespun collars, homespun hearts,
Wear to rags in foreign parts.
Mine at least's as good as done,
And I must get a London one.
This poem of Thomas Hardy is equally Larkin-like, to me:
I'm Smith of Stoke aged sixty-odd,
I've lived without a dame
From youth-time on; and would to God
My dad had done the same.
Today I ask that I may be content with my lot and do my daily work as best I can even if it seems boring and repetitive.