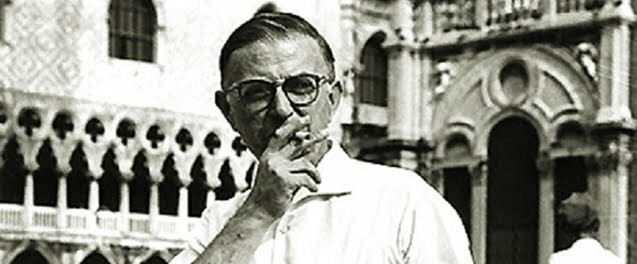 Jean Paul Sartre refuses the Nobel Prize
To listen to this post, click here –
On this day in 1964 the French philosopher and writer Jean Paul Sartre refused to accept the Nobel Prize for literature. Sartre refused the prize saying that he always declined official honours and that "a writer should not allow himself to be turned into an institution".
Sartre popularised Existentialism though the ideas originated from 19th century thinkers such as Nietzsche and Kierkegaard who proposed that each individual – not society or religion – is solely responsible for giving meaning to life and living it passionately and sincerely, "authentically". As Sartre put it: "Man can will nothing unless he has first understood that he must count on no one but himself; that he is alone, abandoned on earth in the midst of his infinite responsibilities, without help, with no other aim than the one he sets himself, with no other destiny than the one he forges for himself on this earth."
Existentialism influenced many disciplines besides philosophy, including theology, drama, art, literature, and psychology. This poem by WB Yeats seems to say there is satisfaction in simply being old with memories, When You Are Old:
When you are old and grey and full of sleep,
And nodding by the fire, take down this book,
And slowly read, and dream of the soft look
Your eyes had once, and of their shadows deep;
How many loved your moments of glad grace,
And loved your beauty with love false or true,
But one man loved the pilgrim soul in you,
And loved the sorrows of your changing face;
And bending down beside the glowing bars,
Murmur, a little sadly, how Love fled
And paced upon the mountains overhead
And hid his face amid a crowd of stars.
Today I ask that I will be able to handle pessimism and negativity with understanding of myself.