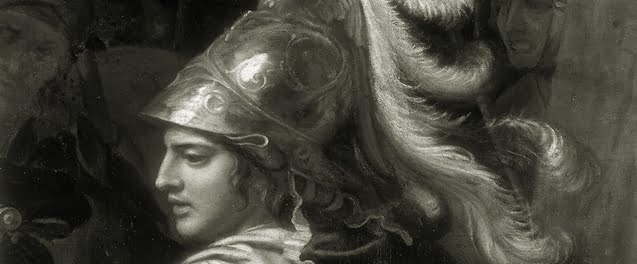 Alexander the Great was inspired by Homer
On this day in 356 BC Alexander the Great, of Macedonia in Greece, was born.
Alexander changed the face of the civilised world by conquering an area that stretched from Greece eastwards to what is present day Pakistan, including Egypt. No wonder they call him 'The Great'. As a youth Alexander was tutored by Aristotle who taught him philosophy, politics and rhetoric as well as introducing him to Homer. The young king was inspired by the story of Achilles and the fall of Troy and carried a copy of Homer's Iliad with him wherever he went.
Famous for his drunken orgies as well as his conquests, Alexander fell ill after a heavy drinking session at Persepolis and died in mysterious circumstances, perhaps related to alcoholism. Like his hero Achilles, he had his fatal weakness.
There is something unique about Greek history and poet Ella Wheeler Wilcox probably felt it when she wrote this poem, At Eleusis:
I, at Eleusis, saw the finest sight,
When early morning's banners were unfurled.
From high Olympus, gazing on the world,
The ancient gods once saw it with delight.
Sad Demeter had in a single night
Removed her sombre garments! And mine eyes
Beheld a 'broidered mantle in pale dyes
Thrown o'er her throbbing bosom. Sweet and clear
There fell the sound of music on mine ear.
And from the South came Hermes, he whose lyre
One time appeased the great Apollo's ire.
The rescued maid, Persephone, by the hand
He led to waiting Demeter, and cheer
And light and beauty once more blessed the land.
Today I seek to be aware of my weaknesses and not allow them to spoil my life, as Alexander may have done.