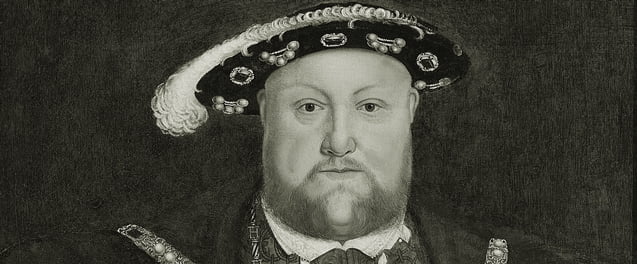 King Henry VIII – reformation or deformation ?
On this day in 1491 the future King Henry VIII of England was born.
The damage that this appalling man did to so many people is well recorded. His attempts to divorce his first wife Catherine of Aragon, led to the English Reformation. Catherine steadfastly refused a divorce and probably continued to hold him in high regard despite his behaviour.
He only inherited the crown because of the early death of his older brother which is possibly why he seems to have been obsessed with the succession, in what came to be known at court as 'The King's Great Matter'. This led him to take in all, six wives, two of whom were beheaded for adultery. He died after a reign of thirty eight years a grossly obese and isolated man, but he had achieved his heart's desire – his sole male heir Edward VI succeeded him, only to die six years later.
This lovely anonymous poem was probably written not long after Henry's death. It could have been written by Catherine of Aragon, Since First I saw your Face:
Since first I saw your face I resolved to honour and renown ye If now I be disdainèd I wish my heart had never known ye.
What? I that loved and you that liked, shall we begin to wrangle, No, no, no, my heart is fast, and cannot disentangle.
If I admire or praise you too much, that fault you may forgive me. Or if my hands had stray'd but a touch, then justly might you leave me.
I ask'd you leave, you bade me love; is't now a time to chide me. No, no, no, I'll love you still what fortune e'er betide me.
The Sun, whose beams most glorious are, rejecteth no behollder. And your sweet beauty past compare made my poor eyes the bolder.
Where beauty moves and wit delights and signs of kindness be, There, O there! Where'er I go I'll leave my heart behind me!
Today I will try to be true and steadfast in all my relationships.