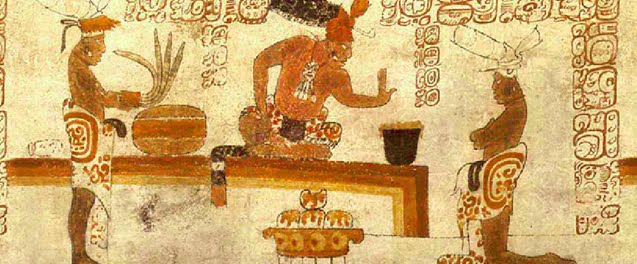 Chocolate arrives in Europe
On this date in 1550 chocolate was introduced to Europe from the Americas.
There is evidence that the peoples of Central America used chocolate as a drink as early as 1900 BC. Christopher Columbus reports finding it during his fourth expedition in 1502. The Maya and Aztec people considered it a delicacy and the emperor Montezuma is described enjoying it by a Spanish observer: "When he had done eating, he usually took a Kind of Chocolate, made after the Manner of the Country, that is, the Substance of the Nut beat up with the Mill till the Cup was filled more with Froth than with Liquor; after which he used to smoak Tobacco perfum'd with liquid Amber." (Antonio de Solis).
Production of chocolate was gradually refined throughout the eighteenth century to make it less bitter to taste; further processes in the nineteenth century transformed it into solid form. Today's worldwide chocolate consumption exceeds seven million tons and the average consumption per person in the UK exceeds 11 kilos per year. The negative impact on health from overindulgence is thought to be very considerable.
Poet Andrew Marvell's The Garden, has this juicy stanza:
What wondrous life is this I lead!
Ripe apples drop about my head;
The luscious clusters of the vine
Upon my mouth do crush their wine;
The nectarine and curious peach
Into my hands themselves do reach;
Stumbling on melons as I pass,
Insnared with flowers, I fall on grass.
I would have been tempted to insert the word 'Chocolates' instead of 'Ripe apples' in line two.
Today I ask that I will practise moderation in all things and I will be grateful for the pleasures in life, especially chocolate.