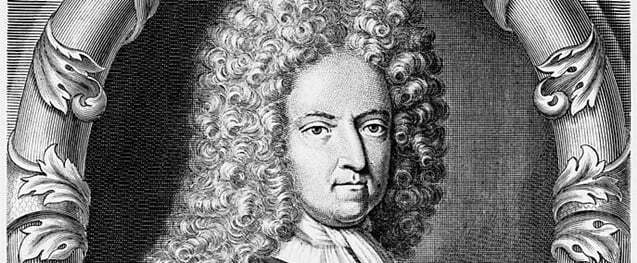 Daniel Defoe makes the novel fashionable
To listen to this post, click here –
On this day in 1703 the novelist and pamphleteer Daniel Defoe was placed in a pillory for the crime of seditious libel after publishing a politically satirical pamphlet, but was pelted with flowers.
Defoe is best remembered for his book Robinson Crusoe which in 2013 was voted number two in the list of best novels written in English, by the Guardian newspaper. It is easy to see why. Supposedly based on a true story, the hero and his sidekick Friday overcome terrible problems to survive on a desert island until they are rescued. Written over three hundred years ago, when the novel was a virtually unknown genre, its characterisation, pace and structure are masterly.
Here is a poem about a different kind of castaway, an old diary. It is by Victorian Poet Augusta Davies Webster, A Castaway:
Poor little diary, with its simple thoughts,
Poor little diary, with its simple thoughts,
Its good resolves, its "Studied French an hour,"
"Read Modern History, "Trimmed up my grey hat,"
"Darned stockings,""Tatted,""Practised my new song,"
"Went to the daily service,""Took Bess soup,"
"Went out to tea." Poor simple diary!
and did I write it? Was I this good girl?
..New clothes to make, then go and say my prayers,
Or carry soup, or take a little walk
And pick the ragged-robins in the hedge?
Then for ambition, (was there ever life
That could forego that?) To improve my mind
And know French better and sing harder songs;
For gaiety, to go, in my best white
Well washed and starched and freshened with new bows,
And take tea out to meet the clergyman….

Today I ask that I will be thankful for what I have and not envious for what I have not.