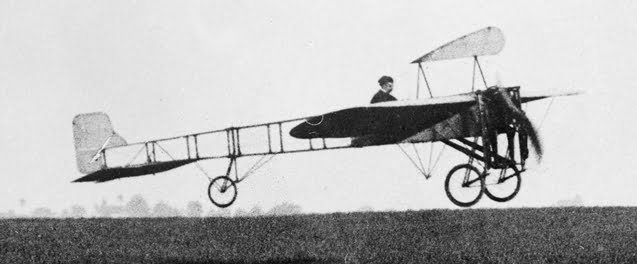 Louis Bleriot's pancake landing
On this day on 1909 the French aviator Louis Bleriot became the first person to fly an aeroplane across the English Channel.
The flight took thirty six minutes and terminated in a pancake landing near Dover castle, partly because Bleriot had omitted to select a suitable landing site in advance. Bleriot successfully claimed the one thousand pound prize offered by the Daily Mail for his feat.
Aviation was a new and dangerous activity at the time and participants such as Bleriot and the Wright brothers had many life-threatening crashes. But thanks partly to their bravery, aviation grew and improved rapidly. When Lindbergh flew the Atlantic for the first time in 1927, Bleriot was there to welcome him at Le Bourget.
He did not live to see the first commercial transatlantic flight in 1939 but he certainly predicted that it would happen. He died in 1936, a true pioneer.
Today's poem, by Sara Teasdale, is about flight, The Flight:
Look back with longing eyes and know that I will follow,
Lift me up in your love as a light wind lifts a swallow,
Let our flight be far in sun or blowing rain—
But what if I heard my first love calling me again?
Hold me on your heart as the brave sea holds the foam,
Take me far away to the hills that hide your home;
Peace shall thatch the roof and love shall latch the door—
But what if I heard my first love calling me once more?
Today I give thanks for all those pioneers who have pushed forward the frontiers of human knowledge and experience.