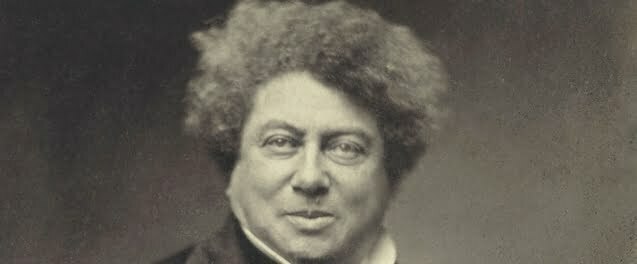 Alexandre Dumas thought like D'Artagnan
To listen to this post, click here –
On this day in 1802 the great French novelist Alexandre Dumas was born.
His thrilling historical novels, such as The Three Musketeers and The Count of Monte Christo made him famous and rich at the time, although in later life he was forced to flee France to escape his creditors because of his lavish spending habits.
Dumas was dark skinned and of mixed race, his grandmother having been a Haitian slave. In spite of this background, Dumas' father had served in the army of Napoleon Bonaparte and risen to the rank of General, an astonishing feat. Dumas worshipped his father who during his life had had to endure many insults because of his race. This is perhaps why D'Artagnan's father, in The Three Musketeers, tells his son: "Never submit quietly to the slightest indignity" and why Dumas' novels contain so many heroes who overcome impossible odds and will never allow an insult to go unchallenged.
Today's poem is from Fantasia by G K Chesterton:
Is there not pardon for the brave
And broad release above,
Who lost their heads for liberty
Or lost their hearts for love?
Or is the wise man wise indeed
Whom larger thoughts keep whole?
Who sees life equal like a chart,
Made strong to play the saner part,
And keep his head and keep his heart,
And only lose his soul.
Today I ask that I will keep my personal boundaries strong and not submit quietly to any indignity.