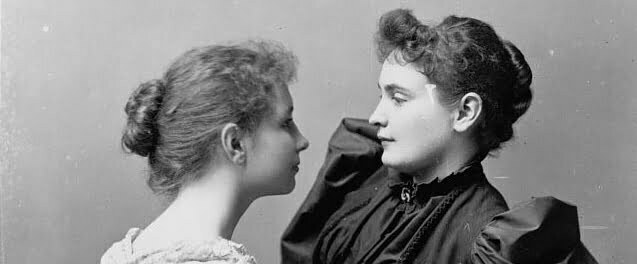 Helen Keller comes out of the dark
On this day in 1880 the American writer and activist Helen Keller was born in Alabama.
At the age of nineteen months, Keller suffered a severe illness that left her deaf and blind. Her loving parents sought help far and wide to no avail until eventually introduced to Anne Sullivan, a partially sighted teacher of great skill and determination, when their daughter was seven years old.
Sullivan interacted with her pupil so successfully that Helen Keller was eventually able to achieve a university degree and go on to write many books and to campaign tirelessly for the rights of women and deprived minorities.Until her death in 1936, Annie Sullivan continued to work uncomplaining, at Helen's side. Helen herself lived on until 1968 by which time she was a world famous figure.
This beautiful poem by Christina Rossetti is about friendship that Helen Keller and Anne Sullivan would have appreciated, Remember:
Remember me when I am gone away,
Gone far away into the silent land;
When you can no more hold me by the hand,
Nor I half turn to go yet turning stay.
Remember me when no more day by day
You tell me of our future that you plann'd:
Only remember me; you understand
It will be late to counsel then or pray.
Yet if you should forget me for a while
And afterwards remember, do not grieve:
For if the darkness and corruption leave
A vestige of the thoughts that once I had,
Better by far you should forget and smile
Than that you should remember and be sad.
Today I will remember that true humility comes from an understanding of ourselves as we really are.