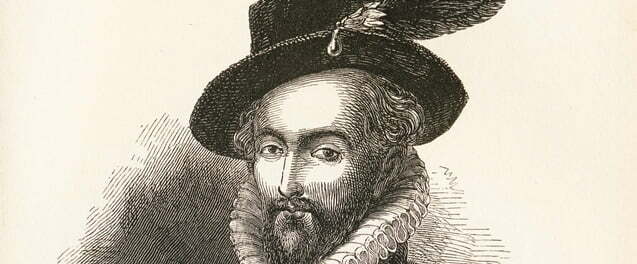 Sir Walter Raleigh starts the smoking habit
To listen to this post, click here –
On this day in 1586 Sir Walter Raleigh introduced tobacco to England for the first time. Following Columbus' trip to the New World in 1492, tobacco was soon being described in contemporary accounts:
"Men with half-burned wood in their hands and certain herbs to take their smokes, which are some dry herbs put in a certain leaf, also dry, like those the boys make on the day of the Passover of the Holy Ghost; and having lighted one part of it, by the other they suck, absorb, or receive that smoke inside with the breath, by which they become benumbed and almost drunk, and so it is said they do not feel fatigue. These, muskets as we will call them, they call tabacos".
Clearly nicotine has always been addictive and ceasing to smoke will always be hard:
It wasn't the whiskey it wasn't the wine
That made such a wreck of this body of mine.
I'll give up the habit I'll manage it yet
When I've had just one last cigarette.
(Popular song)
Today's poem was written by Sir Walter as his epitaph. We assume that he was a smoker himself:
Even such is time, which takes in trust
Our youth, our joys, and all we have,
And pays us but with age and dust,
Who in the dark and silent grave
When we have wandered all our ways
Shuts up the story of our days,
And from which earth, and grave, and dust
The Lord will raise me up, I trust.
Today I ask that I may live free from all addictions.