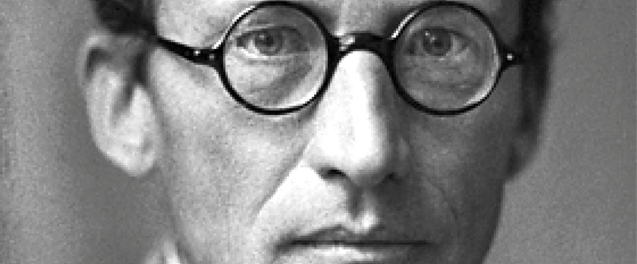 Erwin Schrödinger, physicist and cat lover
To listen to this post, click here –
On this day in 1935 the physicist Erwin Schrödinger published his famous thought experiment Schrödinger's Cat, a paradox that illustrates a problem of quantum mechanics. A cat, a flask of poison, and a radioactive source are placed in a sealed box. If an internal monitor detects radioactivity, the flask is shattered, releasing the poison that kills the cat.
The Copenhagen interpretation of quantum mechanics implies that after a while, the cat is simultaneously alive and dead. Yet, when one looks in the box, one sees the cat either alive or dead, not both at once. This poses the question of when exactly quantum superposition ends and reality collapses into one possibility or the other. I hope that is all crystal clear.
Schrödinger is reported to have said years later that he wished he had never thought of the wretched cat. I think I can see why.
Here is a poem about things not fully understood, Brahma, by Ralph Waldo Emerson:
If the red slayer think he slays,
Or if the slain think he is slain,
They know not well the subtle ways
I keep, and pass, and turn again.
Far or forgot to me is near;
Shadow and sunlight are the same;
The vanished gods to me appear;
And one to me are shame and fame.
They reckon ill who leave me out;
When me they fly, I am the wings;
I am the doubter and the doubt,
I am the hymn the Brahmin sings.
The strong gods pine for my abode,
And pine in vain the sacred Seven;
But thou, meek lover of the good!
Find me, and turn thy back on heaven.
Today I accept that there are things that I may not fully understand although I know that they may have value.