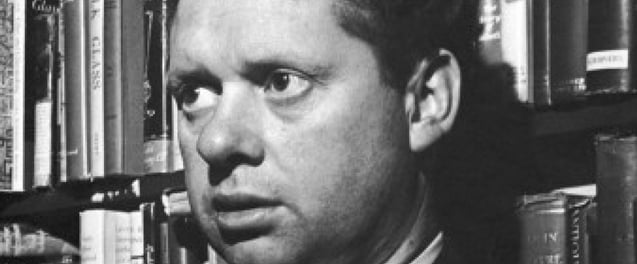 Dylan Thomas's alcoholic marriage
On this day in 1950 the Welsh poet Dylan Thomas arrived in New York City for the start of his first poetry reading tour. There were four tours in all which provided a valuable income for the family, who were chronically poor. The downside was that it gave Dylan freedom to drink and philander, away from the watchful eye of his wife, Caitlin (though her own behaviour when alone often mirrored his).
The fourth tour was disastrous from the start, with Thomas almost permanently drunk and suffering from gout and blackouts. He collapsed at the Chelsea Hotel and was admitted to hospital in a coma with 'acute alcoholic encephalopathy'. Caitlin flew over and, after a drunken rage at the hospital, was put in a straitjacket and sent to an alcohol detox unit. Dylan Thomas never recovered consciousness and died the next day. Caitlin went on to marry again and died in Italy, aged 80. She had been attending Alcoholics Anonymous for over 20 years.
This poem, Chain of Pearls by Rabindranath Tagore, has for me a slight flavour of some of Thomas's work:
Mother, I shall weave a chain of pearls for thy neck
With my tears of sorrow.
The stars have wrought their anklets of light to deck thy feet,
But mine will hang upon thy breast.
Wealth and fame come from thee
And it is for thee to give or to withhold them.
But this my sorrow is absolutely mine own,
And when I bring it to thee as my offering
Thou rewardest me with thy grace.
Today I recognise the hell of addiction and give thanks that I no longer need to take mood altering substances.