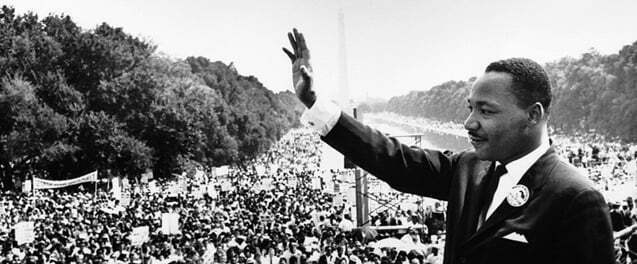 Martin Luther King Jr. delivered his "I have a dream" speech
To listen to this post, click here –
On this day in 1963 Martin Luther King Jr. delivered his speech "I have a dream," addressing a civil rights march at Lincoln Memorial, Washington DC.
He will always be known for his role in the advancement of civil rights using non-violent civil disobedience based on his Christian beliefs. This is what he said that day: "I have a dream that one day this nation will rise up and live out the true meaning of its creed: 'We hold these truths to be self-evident, that all men are created equal.' I have a dream that one day on the red hills of Georgia, the sons of former slaves and the sons of former slave owners will be able to sit down together at the table of brotherhood".
Five years later King was gunned down by James Earl Ray outside a Memphis motel. But the dream lives on, though the red hills of Georgia have yet to see brotherhood of the kind that he envisaged.
I think that Poet John Bunyan would have got on well with King. Here is one of his poems, He That is Down Needs Fear No Fall:
He that is down needs fear no fall,
He that is low no pride;
He that is humble ever shall
Have God to be his guide.
I am content with what I have,
Little be it or much;
And, Lord, contentment still I crave
Because Thou savest such.
Fulness to such a burden is
That go in pilgrimage;
Here little and hereafter bliss
Is best from all to age.
Today I give thanks for the leadership and inspiration of the great men and women who put the good of their country above personal gain.