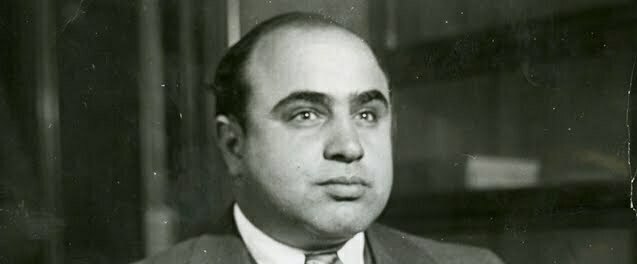 Al Capone's nightmares
To listen to this post, click here –
On this day in 1931 the American gangster Alphonse (Al) Capone was sentenced to 11 years in jail for tax evasion.
Capone had been lauded as a sort of Robin Hood figure in Chicago for some time, however the public's view of him changed after the notorious St Valentine's Day massacre in 1929. Federal lawmen had been after him for years.
In prison, Capone became increasingly psychotic and began to be haunted by the ghost of James Clark, one of the massacre victims and the brother-in-law of gang leader Bugs Moran. Other inmates reported that they could hear Capone screaming in his cell begging "Jimmy" to go away and leave him alone. Capone never recovered from his conviction and imprisonment and died of syphilis in 1947.
Today, Chicago is no longer the bootleg capital of old. Thousands fly into its famous O'Hare airport daily named after World War II hero, fighter pilot Lt Butch O'Hare, killed in action in 1942. Few travellers realise that Butch O'Hare was the son of 'Easy' Eddie O'Hare, Capone's notorious lawyer who, after years spent saving his client from the law by dubious means, finally turned informer and gave damning evidence that put Capone behind bars. Easy Eddie may have walked away with a lighter conscience but it all ended badly; in 1939, he was gunned down in the street in an act of revenge. In his pockets, besides a revolver and a rosary, was found this well-chosen poem, by Robert H Smith:
The clock of life is wound but once
And no man has the power
To tell just when the hands will stop,
At late or early hour;
Now is the only time you own,
Live, love, toil with a will;
Place no faith in time.
Today I pray that I may be grateful for each day that comes, and live it as if it is my last.
Photo source: Chicago Bureau (Federal Bureau of Investigation), USA