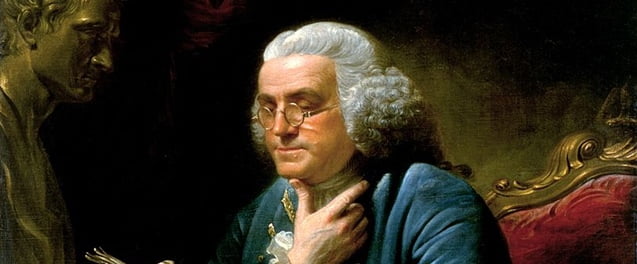 Benjamin Franklin, revolutionary and polymath
On this day in 1706 the American writer, politician, scientist and diplomat Benjamin Franklin was born. Franklin was hugely industrious and inventive. He was a successful newspaper publisher and also worked on inventions involving electricity – he produced the first lightning rod.
He was politically active and his communication skills were so good that he seems to have been involved in talks with the British government before the War of Independence as well as being ambassador to France where he spent several years. Franklin was interested in education and helped to found the University of Pennsylvania. After George Washington, he is probably the most respected of America's founding fathers. He was not a proud man and was well liked.
Twenty thousand people came to his funeral in 1790. This is the epitaph that he wrote for himself : The Body of B. Franklin Printer; Like the Cover of an old Book, Its Contents torn out, and stript of its Lettering and Gilding, Lies here, Food for Worms. But the Work shall not be wholly lost: For it will, as he believ'd, appear once more, In a new & more perfect Edition, Corrected and Amended By the Author. Franklin was an accomplished writer and his autobiography makes for good reading.
His poems reflect his playful, less serious side. Here is one, Equivocation:
Some have learn't many tricks of sly evasion,
Instead of truth they use equivocation,
And eke it out with mental reservation,
Which, to good men, is an abomination.
Our smith of late most wonderfully swore,
That whilst he breathed he would drink no more,
But since, I know his meaning, for I think,
He meant he would not breathe whilst he did drink.
Today I will strive to keep things simple and not complicate my life unnecessarily by trying to do things that do not suit me.