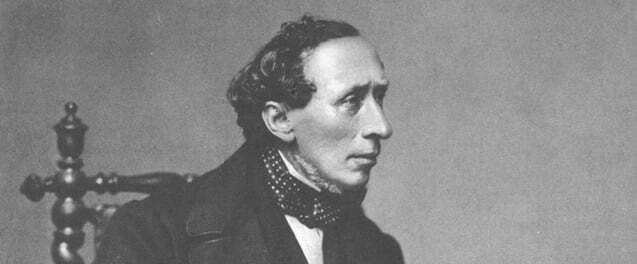 Hans Christian Andersen's lonely personal life
To listen to this post, click here –
On this day in 1835 Hans Christian Andersen published his first book of fairy tales. Andersen lived in Denmark where he is now a 'national treasure'.
Having had an unhappy and difficult childhood, Andersen found it virtually impossible to establish meaningful relationships with women and died alone; round his neck was a pouch containing a long letter from a childhood sweetheart towards whom his love had been unrequited.
Though he died a rather lonely man, children and adults all over the world have reason to think kindly of him for the wonderful stories that he created. He wrote many poems, here is one example, The Philosopher's Stone, Translated by Henry Paul:
Life is a shadow that flits away
In a night of darkness and woe.
But then would follow brighter thoughts:
Life has the rose's sweet perfume
With sunshine, light, and joy.
And if one stanza sounded painfully –
Each mortal thinks of himself alone,
Is a truth, alas, too clearly known;
Then, on the other hand, came the answer –
Love, like a mighty flowing stream,
Fills every heart with its radiant gleam.
She heard, indeed, such words as these –
In the pretty turmoil here below,
All is a vain and paltry show.
In the blind girl's heart a stronger voice repeated –
To trust in thyself and God is best,
In His holy will forever to rest.
But the evil spirit could not see this and remain contented.
Today I give thanks for those who through kindness and hard work contribute to the education and happiness of children.