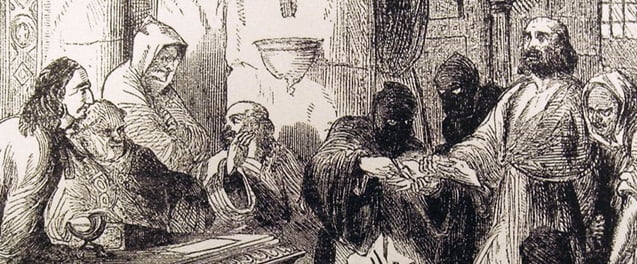 Jacques de Molay's dying curse
On this day in 1314 the Grand Master of the Knights Templar, Jacques de Molay, was burnt to death at the stake, in Paris. The reason why this basically noble and gentle 72 year-old was so horribly put to death was that King Philip IV of France wanted to curb the power of the knights and, perhaps more importantly, take for himself the huge treasury that they possessed.
Since the fall of Acre in 1291 and the loss of the Holy Land, crusaders (which the Templars primarily were) had been out of fashion and countries like France saw such groups of armed warriors who had returned back in their territories as a threat. The Templars had been confident that the Pope would protect them from the trumped up charges of heresy put about by the King. No such thing happened.
Although some of the knights confessed to heresies under torture and were spared, de Molay and some others were sentenced to die. The old man met his death with dignity, though later it was said that at the end he had shouted out, summoning Philip IV and Pope Clement to meet him before God, where they would be judged for their crimes. Both men died within a year of de Molay – the old man's curse seemed to have worked. Here is Chaucer's description of a knight, from the Canterbury Tales:
A knight there was, and what a gentleman,
Who, from the moment that he first began
To ride about the world, loved chivalry,
Truth, honour, freedom and all courtesy.
Full worthy was he in his sovereign's war,
And therein had he ridden, no man more,
As well in Christendom as heathenesse,
And honoured everywhere for worthiness.
He was a truly perfect, noble knight.
Today I will strive be strong enough to stand up for my beliefs, whatever the cost.