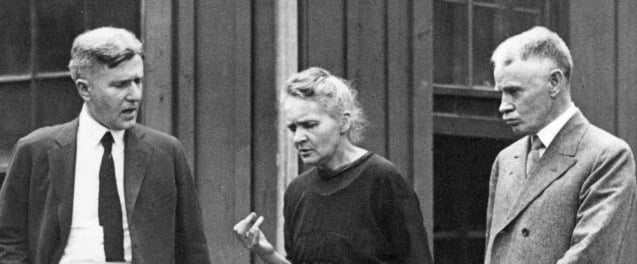 Marie Curie died from radiation sickness
To listen to this post, click here –
On this day in 1867 the Polish/French physicist and chemist Marie Curie was born.
The only woman to have won a Nobel Prize twice, she coined the word 'radioactivity' and isolated the element Radium, from which have come nuclear energy, x-rays and medical applications for the treatment of cancer. She was known for her honesty and moderate life style and gave much of her Nobel Prize money to friends, family, students, and research institutions.
Marie Curie seems to have been unaware, or indifferent to, the dangers that resulted from regular exposure to radiation. She would often carry test tubes containing radio isotopes in her pocket. Her death from anaemia aged 66 was believed to be as a result of radiation exposure.
There are not many poems written about medicine or atomic science and fewer still that are good. Here is a poem by Robert Louis Stevenson who was troubled by illness for most of his life:
Fear not, dear friend, but freely live your days
Though lesser lives should suffer. Such am I,
A lesser life, that what is his of sky
Gladly would give for you, and what of praise.
Step, without trouble, down the sunlit ways.
We that have touched your raiment, are made whole
From all the selfish cankers of man's soul,
And we would see you happy, dear, or die.
Therefore be brave, and therefore, dear, be free;
Try all things resolutely, till the best,
Out of all lesser betters, you shall find;
And we, who have learned greatness from you, we,
Your lovers, with a still, contented mind,
See you well anchored in some port of rest.
Today I am grateful for the unselfish dreamers responsible for the demanding work that has been and continues to be done in medical research.