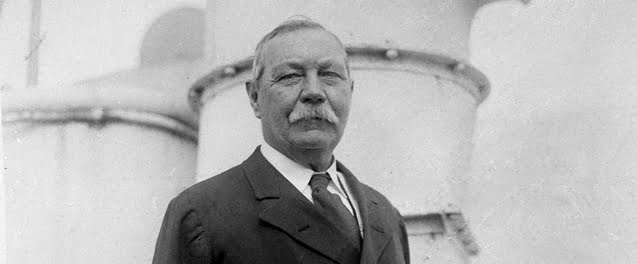 Sir Arthur Conan Doyle kills his hero
On this day in 1859 English author Sir Arthur Conan Doyle was born.
Famous as the creator of Sherlock Holmes, he was a physician and ophthalmologist whose business was not successful – he started writing stories while waiting for clients to turn up. Luckily for us, not many did.
Conan Doyle eventually got fed up with Holmes and his sidekick Dr Watson and killed them both off, hoping to concentrate on more serious historical writing. However, the public outcry was such that he was forced to resurrect them. He also wrote poetry some of it with a mysterious and ominous feel, not unlike his books. Here is one, A Tragedy:
Who's that walking on the moorland?
Who's that moving on the hill?
They are passing 'mid the bracken,
But the shadows grow and blacken
And I cannot see them clearly on the hill.
Who's that calling on the moorland?
Who's that crying on the hill?
Was it bird or was it human,
Was it child, or man, or woman,
Who was calling so sadly on the hill?
Who's that running on the moorland?
Who's that flying on the hill?
He is there — and there again,
But you cannot see him plain,
For the shadow lies so darkly on the hill.
What's that lying in the heather?
What's that lurking on the hill?
My horse will go no nearer,
And I cannot see it clearer,
But there's something that is lying on the hill.
Today I will strive to make the best possible use of the time that I have. I will not make idle moments an excuse to do nothing.