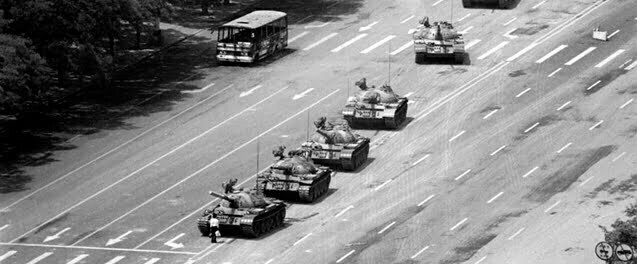 Tiananmen Square rally shakes China
On this day in 1989 a pro-democracy student rally began in Tiananmen Square, Beijing. Popular support for the rally grew rapidly and there were similar rallies, protests and strikes in most of China's big cities.
Eventually at the beginning of June, the Government moved against the protesters; around 250,000 troops were deployed, some using live ammunition and the total death toll is estimated at around 500.
Official policy today is not to refer to the event and China remains a politically stable country. The world remembers the iconic photograph of an unarmed student facing a tank.
Today's poem is by Kabir, The Time Before Death:
Friend? Hope for the Guest while you are alive.
Jump into experience while you are alive!
Think… and think… while you are alive.
What you call "salvation" belongs to the time
before death
If you don't break your ropes while you're alive,
Do you think ghosts will do it after?
The idea that the soul will join with the ecstatic
just because the body is rotten —
that is all fantasy.
What is found now is found then.
If you find nothing now,
you will simply end up with an apartment in the
City of Death.
If you make love with the divine now, in the next
life you will have the face of satisfied desire.
So plunge into the truth, find out who the Teacher is,
Believe in the Great Sound!"
Today I will reflect on being true to myself and living life as best I can.