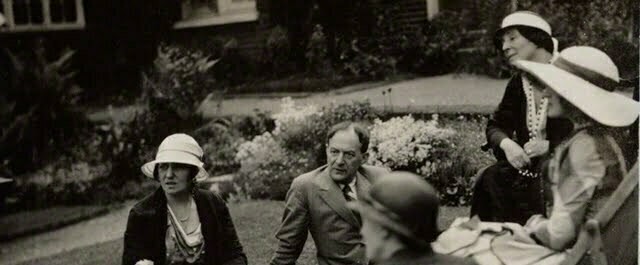 Walter de la Mare was a St Paul's choirboy
On this day in 1873 English poet and writer Walter de la Mare was born.
Jack (he did not like the name Walter) was the son of a Bank of England executive and until age thirty five worked in an office himself. He was very fond of children and wrote some beautiful stories for them. He was also drawn to mystery and magic, as his famous poem The Listeners', evokes so well : "'Is there anybody there?' said the Traveller, knocking on the moonlit door…" De la Mare must have read and been influenced by that Victorian purveyor of magic and romance, Christina Rossetti.Their styles can seem very similar.
Here us one of her poems, 'Echo':
Come to me in the silence of the night;
Come in the speaking silence of a dream;
Come with soft rounded cheeks and eyes as bright
As sunlight on a stream;
Come back in tears,
O memory, hope, love of finished years.
O dream how sweet, too sweet, too bitter sweet,
Whose wakening should have been in Paradise,
Where souls brimfull of love abide and meet;
Where thirsting longing eyes
Watch the slow door
That opening, letting in, lets out no more.
Yet come to me in dreams, that I may live
My very life again though cold in death:
Come back to me in dreams, that I may give
Pulse for pulse, breath for breath:
Speak low, lean low
As long ago, my love, how long ago."
Today I will avoid my old familiar lack of direction and instead ask for guidance and listen when it is given.