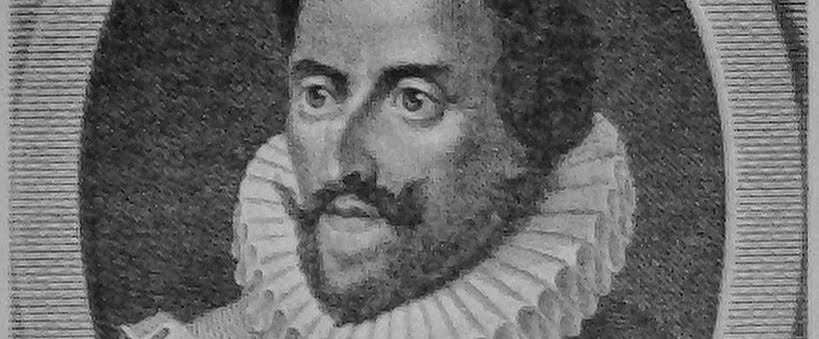 Miguel de Cervantes was captured by pirates
On this day in 1616 Spanish writer Miguel de Cervantes died aged 69.
Cervantes had been a soldier and sailor in his youth and had fought at the battle of Lepanto. Later his ship was taken by Barbary pirates and he spent five years in captivity before his family ransomed him.
He then spent several years as a not very successful tax collector and naval agent before the success of Don Quixote gave him some financial security – he was then fifty eight years old. This famous book shaped both the future of the modern novel and the Spanish language itself which is often referred to as 'the language of Cervantes'.
Today's poem had to be the last few lines of Chesterton's 'Lepanto'
Don John pounding from the slaughter-painted poop,
Purpling all the ocean like a bloody pirate's sloop,
Scarlet running over on the silvers and the golds,
Breaking of the hatches up and bursting of the holds,
Thronging of the thousands up that labour under sea
White for bliss and blind for sun and stunned for liberty.
Vivat Hispania!
Domino Gloria!
Don John of Austria has set his people free!
Cervantes on his galley sets the sword back in the sheath
(Don John of Austria rides homeward with a wreath.)
And he sees across a weary land a straggling road in Spain,
Up which a lean and foolish knight forever rides in vain,
And he smiles, but not as Sultans smile, and settles back the blade….
(But Don John of Austria rides home from the Crusade.)"
Today I will accept that I do not have all the answers but I will trust that I have sufficient unto the day.