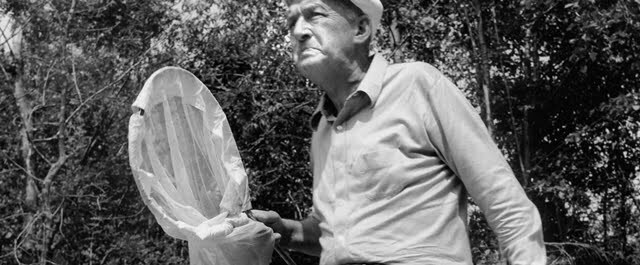 Vladimir Nabokov chased butterflies, not nymphets
On this day in 1899 the novelist Vladimir Nabokov was born.
After an idyllic childhood in a leading St Petersburg family, Nabokov's world was upended by the revolution in 1917. From then on the family moved through Europe staying in Germany, Britain, Czechoslovakia and France before fleeing to the USA when Hitler arrived.
A man of many interests – he liked chess, tennis, boxing and collecting butterflies, Nabokov was brought up trilingual (Russian, French and English). On the other hand, he never learned to drive a car or lived in a house of his own and spent the last sixteen years of his life living with his family at the Montreux Palace Hotel, Switzerland.
His writings, in all three languages, show a fascination with words and language skills. He wrote books on butterflies and chess as well as novels. His most famous work is undoubtedly Lolita, the story of a grown man's highly unsuitable obsession with a twelve-year-old girl, which he somehow manages to make into a witty and entertaining narrative. It has been said that his pursuit of the girl is an allegory for his quest for a very rare butterfly.
Here is a poem by Heinrich Heine, translated by Charles Godfrey Leland, in 1855:
"The butterfly long loved the beautiful rose,
And flirted around all day;
While round him in turn with her golden caress,
Soft fluttered the sun's warm ray….
I know not with whom the rose was in love,
But I know that I loved them all.
The butterfly, rose, and the sun's bright ray,
The star and the bird's sweet call."
Today I will be grateful that I can identify with others; I will listen to their experiences and I will share my own.