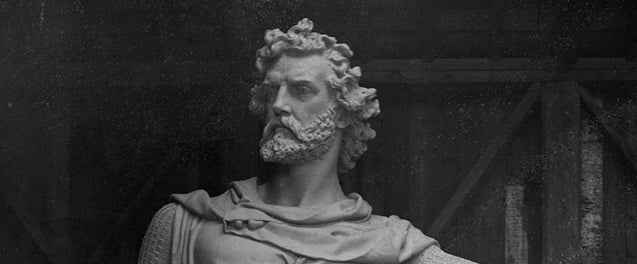 Sir William Wallace, freedom fighter of Scotland was executed for high treason in London.
To listen to this post, click here – 
On this day in 1305 Sir William Wallace, freedom fighter of Scotland, was executed for high treason in London.
Wallace defeated the English army at the Battle of Stirling Bridge in 1297, and was appointed Guardian of Scotland, serving until his defeat at the Battle of Falkirk in July 1298. He was captured seven years later and King Edward I of England had him hanged, drawn, and quartered.
Wallace remains to this day one of Scotland's great heroes whose melancholy end at the hands of the English seems to have been followed by so many others in the annals of Scottish history.
It says a lot for the indefatigable Scottish character that the tale of Wallace is seen as inspirational, as in this well-known poem by Robert Burns: Scots Wha Hae, or, Robert Bruce's Address to His Troops at Bannockburn:
Scots, wha hae wi' Wallace bled,
Scots, wham Bruce has aften led,
Welcome to your gory bed, – Or to victorie. –
Now 's the day, and now's the hour;
See the front o' battle lour;
See approach proud Edward's power, chains and slaverie. –
Wha will be a traitor-knave?
Wha can fill a cowards' grave?
Wha sae base as be a Slave? – Let him turn and flie. –
Wha for Scotland's king and law,
Freedom's sword will strongly draw,
Free-Man stand, or Free-Man fa'let him follow me. –

Lay the proud Usurpers low!
Tyrants fall in every foe!
Liberty 's in every blow!
Let us Do – or Die!!!
Today I ask help for all those suffering under the yoke of tyranny – may they have the courage to rebel, like William Wallace.