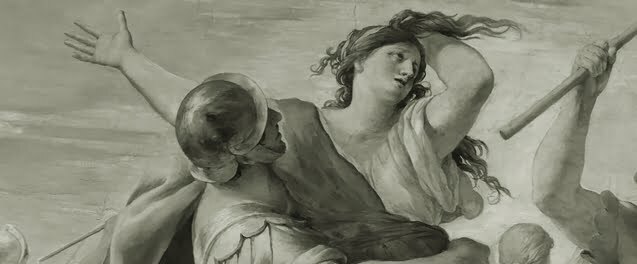 The rape of the Sabine women
To Listen to this post, click here –
On this day in 750 BC the rape of the Sabine women is traditionally said to have taken place.
According to the Roman historian Livy, this event happened after the city of Rome had been founded by the first King, Romulus. The Roman people, who had arrived in Italy from elsewhere in the Mediterranean basin, were keen to establish themselves and propagate their race, but were short of womenfolk. They therefore looked to a neighbouring tribe, the Sabines, to form an alliance, but the Sabines wanted none of this.
Romulus and his warriors therefore hatched a plan to hold a joint festival with the Sabines and to abduct their womenfolk in the course of it. According to Livy, in the role of an official historian, this was done in quite a gentlemanly way as Romulus spoke to each woman to persuade her of the benefits of becoming a Roman wife. Not so much a rape as a coercion, he seems to be saying. Certainly the Sabines were at war with Rome not long after so probably they saw thing differently.
The Roman poet Ovid gave a description in his 'Ars Amatoria' (Art of Love):
As before an eagle, even as a young lamb quails at the sight of a wolf, so shuddered the Sabine women when they beheld these fierce warriors making towards them. Every one turned pale, terror spread throughout the throng, but it showed itself in different ways. Some tore their hair; some swooned away; some wept in silence; some called vainly for their mothers; some sobbed aloud; others seemed stupefied with fear; some stood transfixed; others tried to flee. Nevertheless, the Romans carry off the women, sweet booty for their beds, and to many of them, terror lends an added charm.
Whatever the Roman view, rape is never acceptable. 
Today I seek help for all the victims of rape and domestic abuse throughout the world.