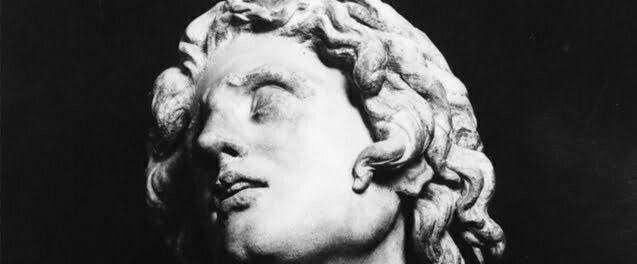 Alexander the Great – was he an alcoholic ?
On this day in BC323 Alexander the Great, King of Macedonia, Persia and Asia and Pharaoh of Egypt, died aged 32.
Historians are divided as to what or who killed Alexander. Certainly he was in poor health already from his long campaigns and had recently indulged in one of his long drinking bouts. Many historians including some of the ancients, believe that he was deliberately poisoned while others consider it to be the result of alcoholism. After his death his huge empire fell apart as his lieutenants fought for their shares of power and territory.
Here is part of a poem by James Elroy Flecker about conquest, War Song of the Saracens:
Not on silk nor in samet we lie, not in curtained solemnity die
Among women who chatter and cry, and children who mumble a prayer
"We are they who come faster than fate: we are they who ride early or late:
We storm at your ivory gate: Pale Kings of the Sunset, beware!
But we sleep by the ropes of the camp, and we rise with a shout, and we tramp
With the sun or the moon for a lamp, and the spray of the wind in our hair.
From the lands, where the elephants are, to the forts of Merou and Balghar,
Our steel we have brought and our star to shine on the ruins of Rum.
We have marched from the Indus to Spain, and by God we will go there again;
We have stood on the shore of the plain where the Waters of Destiny boom…"
Today I accept that I have no need to be a conqueror of anything except myself. I recognise that self-improvement never ceases and I will strive each day to improve.