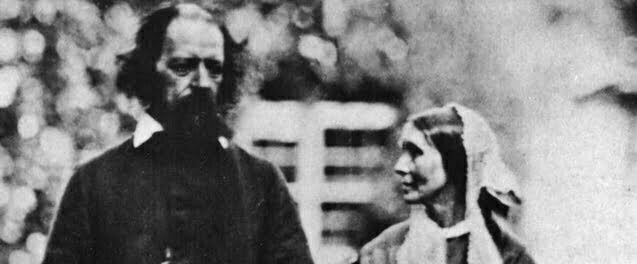 Alfred, Lord Tennyson – England's long-lasting Poet Laureate
To listen to this post, click here –
On this day in 1850 Alfred Tennyson became Poet Laureate succeeding William Wordsworth. The son of a country clergyman, Tennyson was the first to receive a peerage by virtue of his poetry.
He remained Poet Laureate for 42 years and his work was highly popular in his lifetime. He met Queen Victoria, who recorded him in her diary as, "very peculiar looking, tall, dark, with a fine head, long black flowing hair & a beard, – oddly dressed, but there is no affectation about him".
Tennyson's verse was influenced by the romantic poets, such as Wordsworth and Byron. He died in 1892 and is buried at Westminster Abbey.
Here is my favourite Tennyson poem –
Crossing the Bar:
Sunset and evening star,
And one clear call for me!
And may there be no moaning of the bar,
When I put out to sea,
But such a tide as moving seems asleep,
Too full for sound and foam,
When that which drew from out the boundless deep
Turns again home.
Twilight and evening bell,
And after that the dark!
And may there be no sadness of farewell,
When I embark;
For tho' from out our bourne of Time and Place
The flood may bear me far,
I hope to see my Pilot face to face
When I have crost the bar.
Today I give thanks for all the days that have been given to me and ask for courage to face the future, whatever it may hold.