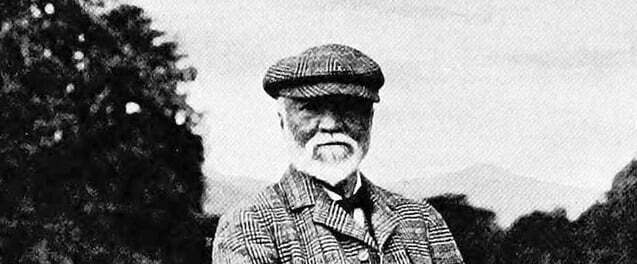 Andrew Carnegie returns to his roots
To listen to this post, click here –
On this day in 1911 Andrew Carnegie formed his Carnegie Corporation for scholarly and charitable purposes.
When he retired, he was one of the world's wealthiest men. He always had great respect for knowledge and education of any kind. He lived his life in three parts: learn, earn and return. He spent his early years learning and mastering the skills he needed, his middle life he spent accumulating huge sums of money and his later life he spent returning his fortune to the world as charitable donations.
At the time of his death in 1919 aged 84, he had given away the equivalent of five billion dollars, at today's value. He never forgot his roots and in later years purchased and lived part of each year at Skibo Castle in the Highlands.
Today's poem is a song of Scottish migrants remembering the old country, Canadian Boat Song:
From the lone shieling of the misty island
Mountains divide us, and the waste of seas –
Yet still the blood is strong, the heart is Highland,
And we in dreams behold the Hebrides.
We ne'er shall tread the fancy-haunted valley,
Where 'tween the dark hills creeps the small clear stream,
In arms around the patriarch banner rally,
Nor see the moon on royal tombstones gleam.
When the bold kindred, in the time long-vanish'd,
Conquer'd the soil and fortified the keep, –
No seer foretold the children would be banish'd,
That a degenerate Lord might boast his sheep.
Come foreign rage – let Discord burst in slaughter!
O then for clansman true, and stern claymore –
The hearts that would have given their blood like water,
Beat heavily beyond the Atlantic roar.
Today I give thanks for those that travel from one country to make a new life in another and by so doing, make the world a better place.