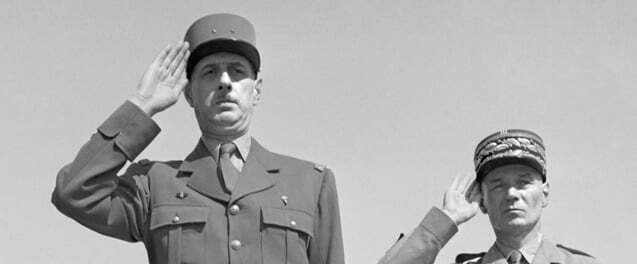 Charles de Gaulle felt like Joan of Arc
To listen to this post, click here –
On this day in 1970 French soldier and statesman Charles de Gaulle died.
Having served with distinction in World War I, de Gaulle's finest hour came in 1940 when he refused to accept the capitulation of France to the German invaders and led a small party of like-minded army officers to England to continue the struggle. For the next four years he rallied the French people via the BBC.
Churchill said of him in his memoirs: "He felt it was essential to his position before the French people that he should maintain a proud and haughty demeanour towards 'perfidious Albion'." The two men did not get on.
Today's poem is about a different man at a different time, Don John of Austria, who was prepared to stand up and fight when others would not, Lepanto by G K Chesterton. De Gaulle may have felt like Don John. He certainly felt like Joan of Arc and once told Churchill, who replied that the English "had to burn the last one." The poem starts:
White founts falling in the courts of the sun,
And the Soldan of Byzantium is smiling as they run;
There is laughter like the fountains in that face of all men feared,
It stirs the forest darkness, the darkness of his beard,
It curls the blood-red crescent, the crescent of his lips,
For the inmost sea of all the earth is shaken with his ships.
They have dared the white republics up the capes of Italy,
They have dashed the Adriatic round the Lion of the Sea,
And the Pope has cast his arms abroad for agony and loss,
And called the kings of Christendom for swords about the Cross,
The cold queen of England is looking in the glass;
The shadow of the Valois is yawning at the Mass;
From evening isles fantastical rings faint the Spanish gun,
And the Lord upon the Golden Horn is laughing in the sun.
Strong gongs groaning as the guns boom far,
Don John of Austria is going to the war
Today I give thanks for all brave men who put their country before their personal comfort.