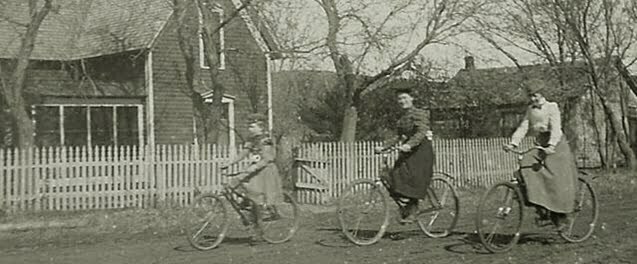 Annie Kopchovsky cycles the globe
To listen to this post, click here – 
On this day in 1897 Annie Kopchovsky arrived back in Boston, Massachusetts to become the first women to cycle round the world.
She was a free-thinking young woman, mother of three children, who reinvented herself as the daring "Annie Londonderry" – entrepreneur, athlete and globetrotter. Travelling with a change of clothes and a pearl-handled revolver, she earned her way by carrying advertising banners through countries around the world. She saw the venture as a test of a woman's ability to fend for herself.
Despite having never ridden a bicycle, she began her journey via New York to France and Egypt, then India and points east, returning to the United States at San Francisco. It took her 15 months. She later said "I believe I can do anything that any man can do."
Today's poem is about an Australian cyclist: Mulga Bill's Bicycle by A.B. "Banjo" Paterson:
Twas Mulga Bill, from Eaglehawk, that caught the cycling craze;
He turned away the good old horse that served him many days;
He dressed himself in cycling clothes, resplendent to be seen;
He hurried off to town and bought a shining new machine;
And as he wheeled it through the door, with air of lordly pride,
The grinning shop assistant said, "Excuse me, can you ride?"
See here, young man," said Mulga Bill, "from Walgett to the sea,
From Conroy's Gap to Castlereagh, there's none can ride like me.
There's nothing clothed in hair or hide, or built of flesh or steel,
There's nothing walks or jumps, or runs, on axle, hoof, or wheel,
But what I'll sit, while hide will hold and girths and straps are tight:
I'll ride this here two-wheeled concern right straight away at sight."
Today I ask that I will appreciate the freedom to roam that cycling allows me.