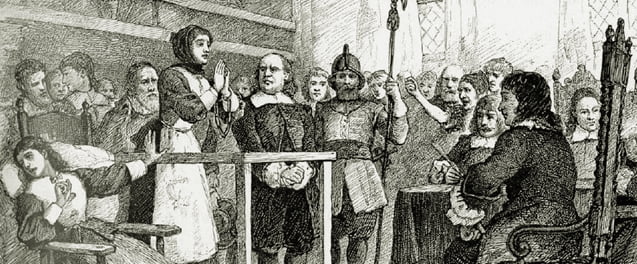 Arthur Miller recreates the Salem witch trials
To listen to this post, click here – 
On this day in 1692 the last of 20 people were hanged for witchcraft in Salem, Massachusetts.
This event was not unique, but simply an American example of the much broader phenomenon of witch trials in the 15th to 18th centuries. In 1953 Arthur Miller wrote his famous play The Crucible about the Salem trials, while senator Joseph McCarthy was conducting his notorious investigations into 'un-American activities' (i.e. communist sympathies) among well-known personalities such as Orson Welles, Charlie Chaplin and Paul Robeson.
Miller himself was questioned by the House of Representatives' Committee on Un-American Activities in 1956 and convicted of "Contempt of Congress" for refusing to identify others present at meetings he had attended.
Today's poem is by Khalil Gibran On Crime and Punishment:
Then one of the judges of the city stood forth and said,
"Speak to us of Crime and Punishment."
And he answered saying:
It is when your spirit goes wandering upon the wind,
That you, alone and unguarded,
Commit a wrong unto others and therefore unto yourself.
And for that wrong committed must you knock and wait a while unheeded at the gate of the blessed.
Like the ocean is your god-self;
It remains for ever undefiled.
And like the ether it lifts but the winged.
Even like the sun is your god-self;
It knows not the ways of the mole nor seeks it the holes of the serpent.
But your god-self does not dwell alone in your being.
Today I pray for all victims of extremism and intolerance.