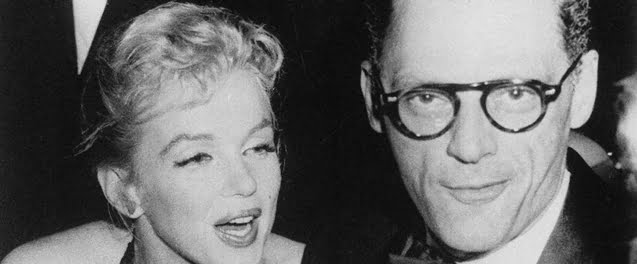 Arthur Miller, Marilyn Monroe and The Crucible
On this day in 1947 American playwright and Pulitzer Prize winner Arthur Miller won a Tony award for his play "All My Sons".
Miller was married four times including to film idol Marilyn Monroe. His life was also defined by his battle with the communist-hunting House Un-American Activities Committee. He steadfastly refused to give any names of people suspected of communist sympathies and was convicted of contempt of Congress (this was later quashed). He afterwards wrote 'The Crucible' about the Salem witch hunts, as a parody of the persecution that he had undergone.
Here are some lines from Sophocles play about Antigone, daughter of Oedipus, who bravely died for her principles:
KING CREON. Didst thou, then, dare to disobey these laws?
ANTIGONE. Yes, for it was not Zeus who gave them forth,
Nor Justice, dwelling with the Gods below,
Who traced these laws for all the sons of men;
Nor did I deem thy edicts strong enough,
Coming from mortal man, to set at naught
The unwritten laws of God that know not change.
They are not of to-day nor yesterday,
But live for ever, nor can man assign
When first they sprang to being. Not through fear
Of any man's resolve was I prepared
Before the Gods to bear the penalty
Of sinning against these. That I should die
I knew (how should I not?), though thy decree
Had never spoken. And, before my time
If I should die, I reckon this a gain;
For whoso lives, as I, in many woes,
How can it be but death shall bring him gain?
And so for me to bear this doom of thine has nothing painful.
Today I reflect on the strength of those who stand up for their beliefs.