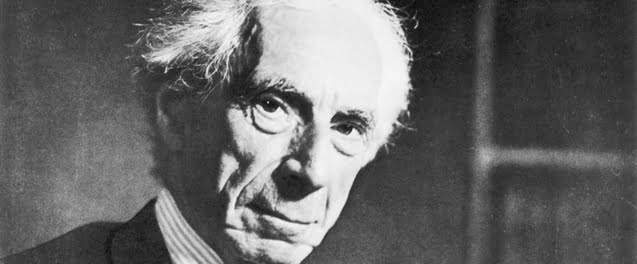 Bertrand Russell's prison sentence at age eighty-nine
On this day in 1872 English philosopher and Nobel Prize winner Bertrand Russell was born.
He won the Nobel Prize for literature after publishing his Principia Mathematica and other works but is today equally admired for his fearless political campaigning for peace and nuclear disarmament. He was arrested many times at demonstrations and received a seven day jail sentence for breach of the peace at the age of eighty-nine.
Russell received many honours including the OBE from King George VI who, mindful of his political activities said: "You have sometimes behaved in a manner that would not do if generally adopted". Russell later claimed that he nearly replied: "That's right, just like your brother" (who abandoned the throne for Mrs Simpson).
I think he would have liked this poem by George William Russell (no relation), Brotherhood:
Twilight, a blossom grey in shadowy valleys dwells:
Under the radiant dark the deep blue-tinted bells
In quietness re-image heaven within their blooms,
Sapphire and gold and mystery. What strange perfumes,
Out of what deeps arising, all the flower-bells fling,
Unknowing the enchanted odorous song they sing!
Oh, never was an eve so living yet: the wood
Stirs not but breathes enraptured quietude.
Here in these shades the ancient knows itself, the soul,
And out of slumber waking starts unto the goal.
What bright companions nod and go along with it!
Out of the teeming dark what dusky creatures flit,
That through the long leagues of the island night above
Come by me, wandering, whispering, beseeching love;
As in the twilight children gather close and press
Nigh and more nigh with shadowy tenderness…
Today I will take time to recognise success with an attitude of gratitude.