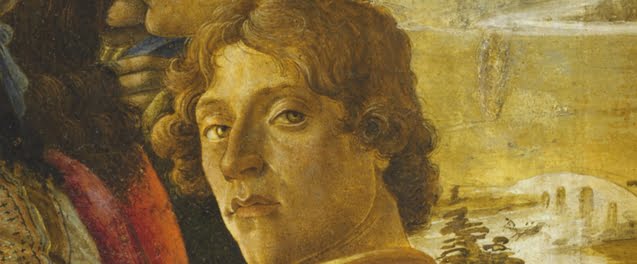 Sandro Botticelli burns his paintings
On this day in 1510 the Italian painter Sandro Botticelli died.
Very little detail is known about his life: he was apprenticed to Fra Lippo Lippi, was greatly influenced by the puritanical monk Savonarola to the extent of burning several of his paintings in the famous 'bonfire of the vanities' and seems to have harboured an unrequited love for a married lady named Simonetta Vespucci, though other commentators have hinted that he might have been homosexual. None of this particularly matters when one contemplates his paintings which to most people, represent some of the most beautiful figurative works of art ever produced.
Here is a beautiful poem, There's a Moon Inside my Body by the mystic poet Kabir who lived in India, around the same time as Botticelli:
The moon shines in my body, but my blind eyes cannot see it:
The moon is within me, and so is the sun.
The unstruck drum of Eternity is sounded within me; but my deaf ears cannot hear it.
So long as man clamours for the I and the Mine, his works are as naught:
When all love of the I and the Mine is dead, then the work of the Lord is done.

For work has no other aim than the getting of knowledge:
When that comes, then work is put away.
The flower blooms for the fruit: when the fruit comes, the flower withers.
The musk is in the deer, but it seeks it not within itself: it wanders in quest of grass.

To listen to this poem, click here –

https://www.poetrychangeslives.com/wp-content/uploads/2017/05/Labor.m4a
Today I will keep it simple, remembering the words of Ralph Waldo Emerson:
"Some of your hurts you have cured,
And the sharpest you've even survived,
But what torments of grief you've endured,
From evils which never arrived" 
Photo: Probable self-portrait of Botticelli in his painting Adoration of the Magi