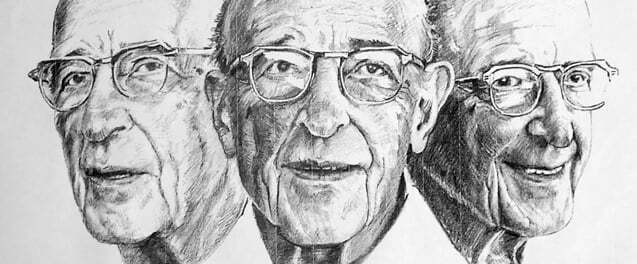 Carl Rogers, a fully functioning psychologist
On this day in 1902 the psychologist Carl Rogers was born. Rogers is considered one of the founding fathers of psychotherapy. Many of his concepts such as the 'unconditional positive regard' that a counsellor should give their client and the theory of communication between client and clinician, are in use today, as is his concept of the "Fully Functioning Person".
Rogers was voted second to Sigmund Freud in a rating of the most effective clinical psychologists of all time.
Today's poem is from The Garden of Proserpine by Swinburne and talks of the kind of feelings that may lead us into therapy:
We are not sure of sorrow,
And joy was never sure;
To-day will die to-morrow;
Time stoops to no man's lure;
And love, grown faint and fretful,
With lips but half regretful
Sighs, and with eyes forgetful
Weeps that no loves endure.
From too much love of living,
From hope and fear set free,
We thank with brief thanksgiving
Whatever gods may be
That no life lives for ever;
That dead men rise up never;
That even the weariest river
Winds somewhere safe to sea.
Then star nor sun shall waken,
Nor any change of light:
Nor sound of waters shaken,
Nor any sound or sight:
Nor wintry leaves nor vernal,
Nor days nor things diurnal;
Only the sleep eternal
In an eternal night.
Today I will try to help people by giving them unconditional positive regard and not by telling them what to do.