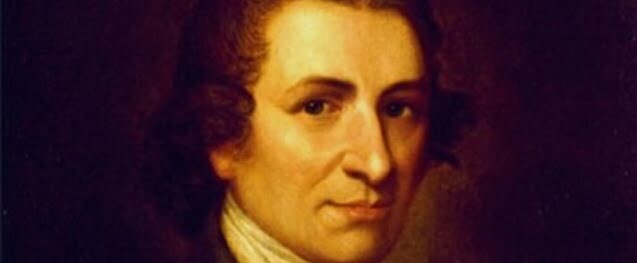 Thomas Paine produces Common Sense
On this day 1776 Thomas Paine published Common Sense, a pamphlet that was a scathing attack on King George III's reign over the colonies and a call for complete independence. His pamphlets were hugely influential and read by every colonial patriot. As John Adams said, "Without the pen of the author of Common Sense, the sword of Washington would have been raised in vain."
Paine returned to Europe and lived in France during the 1790's where he wrote his famous work The Rights of Man. He took an active part in the revolution and, unusually for an Englishman, got elected to the French National Convention, where Robespierre regarded him as an enemy. Paine's last years were spent back in America where he fell out with many, including George Washington whom he accused of conspiring with Robespierre against him. He died in New York; sadly the funeral of the man who had influenced so many was attended by just six people.
Here is his poem, Lines Extempore:
Quick as the lightning's vivid flash
The poet's eye o'er Europe rolls;
Sees battles rage, hears tempests crash,
And dims at horror's threatening scowls –
Marks ambition's ruthless king,
With crimson'd banners scathe the globe,
While trailing after conquest's wing,
Man's festering wounds his demons probe.
Palled with streams of reeking gore –
That stain the proud imperial day;
He turns to view the Western shore,
Where freedom holds her boundless sway.
'Tis here her sage triumphant sways
An empire in the people's love,
'Tis here the sovereign will obeys
No King but Him who rules above.
Today I will try to live my life using common sense.