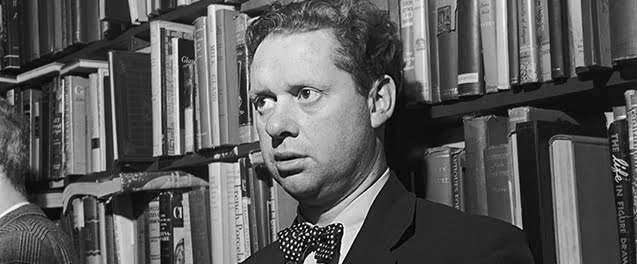 Dylan Thomas – poet and pub-lover
To listen to this post, click here –
On this day in 1914 Welsh poet Dylan Thomas was born. Now I know that they say he only wrote in English and that when he recited poems he sounded like an Englishman; I know they say he was a drunk and a womaniser and a spendthrift and a ne'er do well who borrowed from his friends and never paid them back. I know too that they say he could only write about childhood and death; it's probably all true, but when I read a poem like Fern Hill I'm moved by the lyrical beauty of the language and that's really all that matters.
Certainly Dylan Thomas liked to drink and one wonders how much alcohol influenced his writing and his choice of words; it does seem that very few poets have been teetotal. Perhaps they need that loosening of inhibition that alcohol provides. CP Cavafy alludes to it in this poem that Thomas may have known, Half an Hour:
I never had you, nor will I ever have you
I suppose. A few words, an approach
As in the bar yesterday, and nothing more.
It is, undeniably, a pity. But we who serve Art
Sometimes with intensity of mind, and of course only
For a short while, we create pleasure
Which almost seems real.
So in the bar the day before yesterday – the merciful alcohol
Was also helping much –
I had a perfectly erotic half-hour.
And it seems to me that you understood,
And stayed somewhat longer on purpose.
This was very necessary. Because
For all the imagination and the wizard alcohol,
I needed to see your lips as well,
I needed to have your body close.
Today I give thanks for men of true genius who can turn a low mood into a happy one and give inspiration to so many.