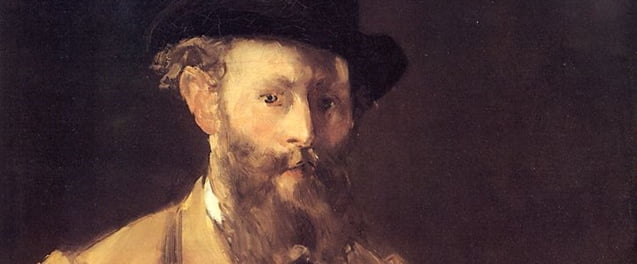 Edouard Manet picks up more than ideas
On this day in 1832 the French painter Edouard Manet was born. A major influence on later artists, Manet's work represents the transition from Realism to Impressionism. Born into a well to do Parisian family, he could afford to travel and study the masters whose work he greatly admired and often paraphrased; for example, his famous painting 'Le Déjeuner sur l'Herbe' follows the composition of a Raphael drawing.
His 'Olympia' is reminiscent of Goya's 'Naked Maja' as well as Titian. Much of his work contains homage to the old masters, especially Franz Hals, Velasquez and Goya. Manet knew almost everyone in the Paris art world – Degas, Monet, Pisarro, Cezanne and Renoir and also the writers Emile Zola, Stephan Mallarmé and Charles Baudelaire.
It seems that even such an array as these could not stop him from wandering off the path of righteousness. He died of complications from syphilis at the age of 51.
Today's poem is by Christopher Marlowe. It springs to mind when looking at 'Le Déjeuner sur l'Herbe':
But we will leave this paltry land
And sail from hence to Greece, to lovely Greece.
I'll be thy Jason, thou my golden fleece.
Where painted carpets o'er the meads are hurled,
And Bacchus' vineyards overspread the world,
Where woods and forests go in goodly green,
I'll be Adonis: thou shalt be Love's Queen.
The meads, the orchards, and the primrose lanes,
Instead of sedge and reed, bear sugar canes.
Thou in those groves, by Dis above,
Shalt live with me, and be my love.
Today I am grateful for the endless and uncomplicated pleasure that comes from viewing great works of art.