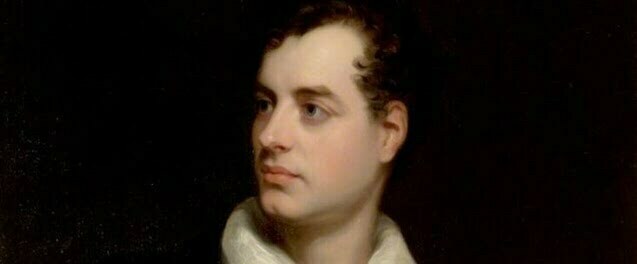 Lord Byron's relationships
On this day in 1788 George Gordon Byron, known as Lord Byron, was born. 'Mad, bad and dangerous to know', the famous summation of Lady Caroline Lamb, appears pretty accurate.
Most literature about Byron tends to list people of both sexes whom he met, followed by the words 'with whom he had an affair'. Such people included school friends at Harrow, servant girls, his close relations, society ladies, the poet Shelley, other men's wives, servant girls and just about anyone else who came to his house  In spite of, or perhaps because of all this, Byron wrote some amazing poetry. He died in Greece aged 36, an adventurer to the last.
This piece is said to have been inspired by meeting and falling in love with a beautiful widow at a ball. Her black dress was set with spangles, She Walks in Beauty:
She walks in beauty, like the night
Of cloudless climes and starry skies;
And all that's best of dark and bright
Meet in her aspect and her eyes;
Thus mellowed to that tender light
Which heaven to gaudy day denies.
One shade the more, one ray the less,
Had half impaired the nameless grace
Which waves in every raven tress,
Or softly lightens o'er her face;
Where thoughts serenely sweet express,
How pure, how dear their dwelling-place.
And on that cheek, and o'er that brow,
So soft, so calm, yet eloquent,
The smiles that win, the tints that glow,
But tell of days in goodness spent,
A mind at peace with all below,
A heart whose love is innocent!
Today I reflect on the good in people rather than their faults.