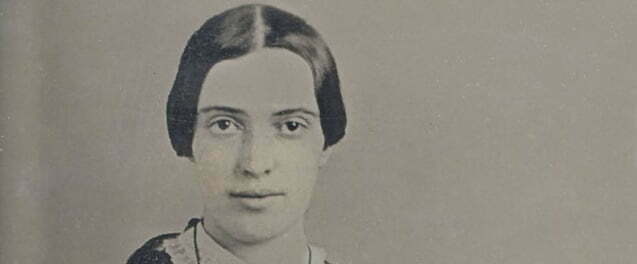 Emily Dickinson, reclusive poetess
On this day in 1830 the American writer and poet Emily Dickinson was born. Eccentric and reclusive, with a penchant for white clothing, she spent much of her adult life inside the large family home at Amherst in Massachusetts, often not leaving her room for days on end.
Thomas Higginson, a literary critic and ex-minister gave her considerable moral support but only met her once. He left this telling description: "A little plain woman with two smooth bands of reddish hair in a very plain and exquisitely clean white piqué and a blue net worsted shawl." He also felt that he never met "with anyone who drained my nerve power so much. Without touching her, she drew from me. I am glad not to live near her."
Here is one of her strange poems: Why do I love You, Sir?
Because –
The Wind does not require the Grass
To answer – wherefore when He pass
She cannot keep Her place.
Because He knows –
Do not You –
And We know not –
Enough for Us
The Wisdom it be so –
The Lightning – never asked an Eye
Wherefore it shut – when He was by –
Because He knows it cannot speak –
And reasons not contained –
Of Talk –
There be – preferred by Daintier Folk –
The Sunrise – Sire – compelleth Me –
Because He's Sunrise – and I see –
Therefore – Then – I love Thee –
Today I reflect on people's individuality and the need not to judge others.