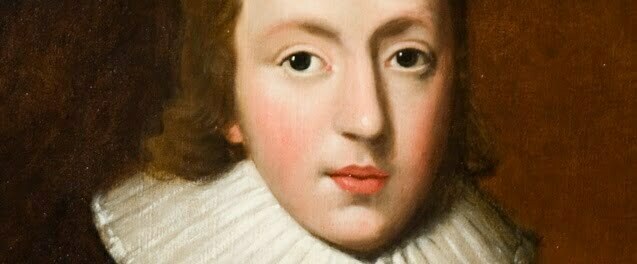 John Milton, a 'cow ready for milking'
On this day in 1608 the English poet John Milton was born, 16 years before the death of Shakespeare. His Republican views brought him into favour with Cromwell but after the return of the monarchy, he faded into obscurity and died in relative poverty in 1674 at the age of 65.
A scholar with a command of several languages, he was appointed Secretary for Foreign Tongues in 1649. He is noted for his morality and piety rather than for romanticism or humour. By 1654 he was completely blind and much of his work was produced through dictation, mostly to his daughters who described him as being in the mornings like 'a cow ready for milking', pacing the room until he had been unburdened of his verse. Though somewhat out of fashion nowadays, his poetry is very fine. Here is that poignant sonnet On His Blindness:
When I consider how my light is spent,
Ere half my days, in this dark world and wide,
And that one Talent which is death to hide
Lodged with me useless, though my Soul more bent
To serve therewith my Maker, and present
My true account, lest he returning chide;
"Doth God exact day-labour, light denied?"
I fondly ask. But patience, to prevent
That murmur, soon replies, "God doth not need
Either man's work or his own gifts; who best
Bear his mild yoke, they serve him best. His state
Is Kingly. Thousands at his bidding speed
And post o'er Land and Ocean without rest:
They also serve who only stand and wait."
Today I give thanks for the talents that I have and ask that I may use them to the best of my ability and not be disheartened by setbacks.