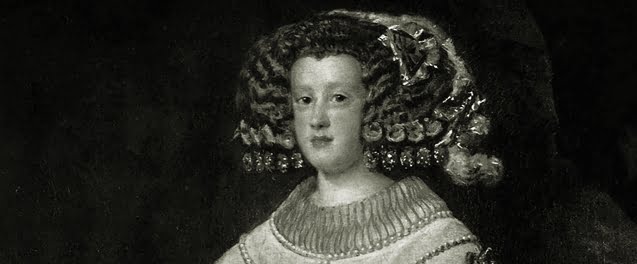 French King Louis XIV's perfect wife
 To listen to this post, click here –
On this day in 1638 the Infanta Maria Teresa of Spain, later to become wife of Louis XIV of France, was born.
Her virtue and piety were legendary and she fulfilled her duty as queen by producing a male heir to the throne. She is said to have genuinely loved her husband in spite of having to tolerate his many illicit love affairs and the presence of his official mistresses at court.
Maria Teresa and Louis were first cousins and remained friends throughout the marriage until her untimely death at the age of 44. Upon her death, the king said: "This is the first trouble which she has given me."
Today's poem is about love and life, by George Herbert, The World:
Love built a stately house, where Fortune came,
And spinning fancies, she was heard to say
That her fine cobwebs did support the frame,
Whereas they were supported by the same;
But Wisdom quickly swept them all away.
Reforméd all at length with menaces.
Then entered Sin, and with that sycamore
Whose leaves first sheltered man from drought and dew,
Working and winding slily evermore,
The inward walls and summers cleft and tore;
But Grace shored these, and cut that as it grew.
Then Sin combined with death in a firm band,
To raze the building to the very floor;
Which they effected,
none could them withstand;
But Love and Grace took Glory by the hand,
And built a braver palace than before.
Today I will give thanks for all the love in the world that is a power for good.