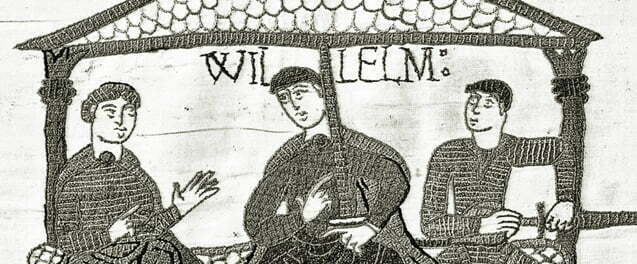 William the Conqueror changes English history
To listen to this post, click here –
On this day in 1087 King William I of England, the Conqueror, died.
The Norman Conquest changed Saxon England for ever. A new nobility speaking a different language was imposed on the country and castles were built to enforce new laws and stifle rebellion. As soon as William breathed his last, at Rouen, all the wealthy and nobility, including his sons, hurriedly left to protect their estates, after stripping William of his valuables and leaving him virtually naked on the floor.
It was left to the local monks to arrange the funeral and burial. His tomb was desecrated in later centuries; an ignoble end for a man who had so changed history.
Today's poem by Lord Byron, is on a similar theme All Is Vanity Saith The Preacher:
Fame, wisdom, love, and power were mine,
And health and youth possess'd me;
My goblets blush'd from every vine,
And lovely forms caress'd me;
I sunn'd my heart in beauty's eyes,
And felt my soul grow tender;
All earth can give, or mortal prize,
Was mine of regal splendour.
There rose no day, there roll'd no hour
Of pleasure unembitter'd;
And not a trapping deck'd my power
That gall'd not while it glitter'd.
The serpent of the field, by art
And spells, is won from harming;
But that which coils around the heart,
Oh! Who hath power of charming?
It will not list to wisdom's lore,
Nor music's voice can lure it;
But there it stings for evermore
The soul that must endure it.
Today I will remember that fame and fortune are temporal.