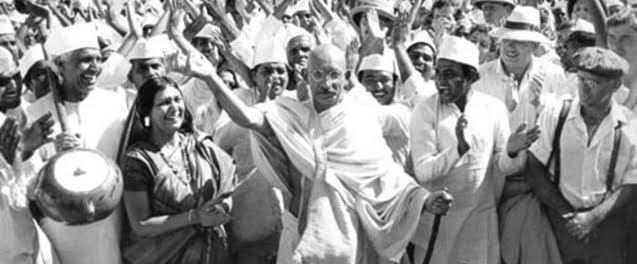 Mahatma Gandhi meets King Edward VII dressed in a loincloth
On this day in 1930 Indian politician, lawyer and writer Mahatma Gandhi was imprisoned by the British.
It was not the first or the last time that he would be imprisoned for his beliefs. Gandhi was influenced by Plato and the American writer Thoreau in his use of passive resistance and non-violent protest to achieve political and humanitarian aims.
He was a very simple and honest man who had few possessions, lived mostly in communes and wore the Indian peasant garb. On showing up to meet King Edward VII dressed only in a loincloth, it was suggested he might have dressed more formally. His reply was: 'His Majesty was wearing enough for both of us'.
He was known and loved as the Father of India and his assassination by Hindu malcontents in 1948 was a huge shock. Over two million people attended his funeral.
Bengali Poet Rabindranath Tagore knew Gandhi well. Here is one of his poems, Freedom:
Freedom from fear is the freedom
I claim for you my motherland!
Freedom from the burden of the ages, bending your head,
Breaking your back, blinding your eyes to the beckoning
Call of the future;
Freedom from the shackles of slumber wherewith
You fasten yourself in night's stillness,
Mistrusting the star that speaks of truth's adventurous paths;
Freedom from the anarchy of destiny
Whole sails are weakly yielded to the blind uncertain winds,
And the helm to a hand ever rigid and cold as death.
Freedom from the insult of dwelling in a puppet's world,
Where movements are started through brainless wires,
Repeated through mindless habits,
Where figures wait with patience and obedience for the
Master of show, to be stirred into a mimicry of life.
Today I give thanks that I live free and I ask for help for those in prison.