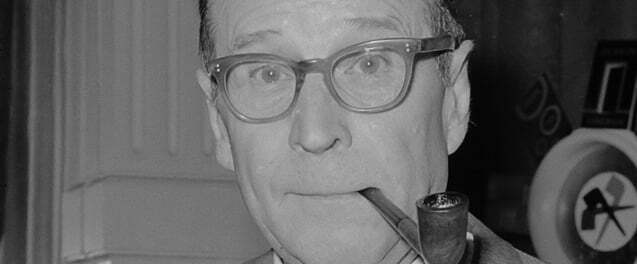 George Simenon's shady private life
On this day in 1903 the Belgian writer Georges Simenon was born. Simenon will always be remembered for his creation, Commissaire Maigret, the cerebral and health conscious crime solver who was also an innately decent man. Whether the same could be same for his creator is another matter.
During the war he was suspected of being a German collaborateur and was later convicted for this. In his private life he had several mistresses and visited countless prostitutes. None of his marriages seems to have worked too well. Although Belgian by birth, Simenon spent most of his life in France and also lived in the USA for ten years after World War II.
Today's poem, Conversation, is by Frenchman Charles Baudelaire (in translation by William Aggeler) :
You are a lovely, rosy, lucid autumn sky!
But sadness mounts upon me like a flooding sea,
And ebbs, and ebbing, leaves my lips morose and dry,
Smarting with salty ooze, bitter with memory.

– Useless to slide your hand like that along my breast;
That which it seeks, my dear, is plundered; it is slit
By the soft paw of woman, that clawed while it caressed.
Useless to hunt my heart; the beasts have eaten it.

My heart is like a palace where the mob has spat;
There they carouse, they seize each other's hair, they kill.
– Your breast is naked . . . what exotic scent is that?

O Beauty, iron flail of souls, it is your will!
So be it! Eyes of fire, bright in the darkness there,
Bum up these strips of flesh the beasts saw fit to spare.
Today I will try my best to behave like an innately decent man.
Photo credit: National Archives of the Netherlands