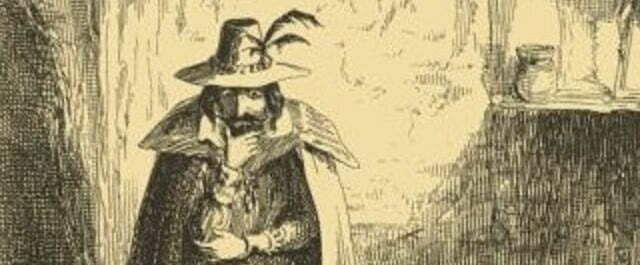 Guy Fawkes plots to blow up Parliament
To listen to this post, click here –
On this day in 1605 the plot to blow up parliament and assassinate King James VI of Scotland who also became King James I of England, was foiled.
The authorities searched Westminster Palace during the early hours of the 5th of November, and found Guy Fawkes guarding the explosives. Asked what he was doing in possession of so much gunpowder, Fawkes answered: "to blow you Scotch beggars back to your native mountains."
This brave comment earned the admiration of the King. Over the next few days, he was questioned and severely tortured, and eventually he confessed to the plot. Immediately before his execution, Fawkes jumped from the scaffold where he was to be hanged and broke his neck, thus avoiding the agony of the mutilation that would have followed. Each year the event is remembered with bonfires and fireworks where a 'guy' in effigy is burnt.
Fawkes was clearly a brave and daring man, if a rather foolish one. Today's poem by Rudyard Kipling is about being brave, If:
If you can keep your head when all about you
Are losing theirs and blaming it on you,
If you can trust yourself when all men doubt you,
But make allowance for their doubting too;
If you can wait and not be tired by waiting,
Or being lied about, don't deal in lies,
Or being hated, don't give way to hating,
And yet don't look too good, nor talk too wise

If you can talk with crowds and keep your virtue,
'Or walk with Kings – nor lose the common touch,
If neither foes nor loving friends can hurt you,
If all men count with you, but none too much;
If you can fill the unforgiving minute
With sixty seconds' worth of distance run,
Yours is the Earth and everything that's in it,
And – which is more – you'll be a Man, my son!
Today I ask that I may be brave in what I set out to do.