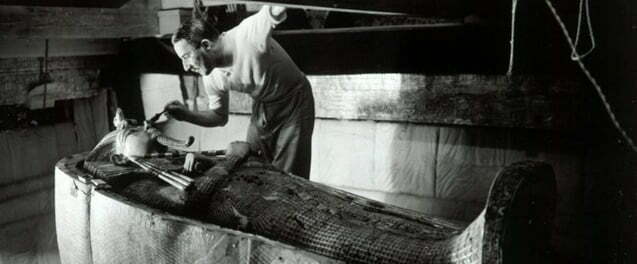 Howard Carter finds King Tut
To listen to this post, click here –
On this day in 1922 the archaeologist Howard Carter discovered the tomb of Tutankhamen in Egypt. One of the most moving finds was a single cornflower placed in the king's hands, perhaps by his young widow.
Egypt has provided a rich treasure trove of ancient Greek poetry that might otherwise have been lost. Some of sixth century BC Greek poetess Sappho's works for example, were found on fragments of papyrus that had been recycled into a kind of papier-mâché used to protect Egyptian mummies in their tombs.
Here is one of Sappho's poems that could have been about Tutankhamen:
Blest as the immortal gods is he
The youth whose eyes may look on thee
Whose ears thy tongue's sweet melody
May still devour.
Thou smilest too – sweet smile whose charm
Has struck my soul with wild alarm
And when I see thee bids disarm
Each vital power.
Speechless I gaze: the flame within
Runs swift o'er all my quivering skin:
My eyeballs swim, with dizzy din
My brain reels round.
And cold drops fall; and tremblings frail
Seize every limb and grassy pale
I grow; and then, together fail
Both sight and sound.
Today I will reflect on the lasting power of love and not worry whether I will be remembered or not.