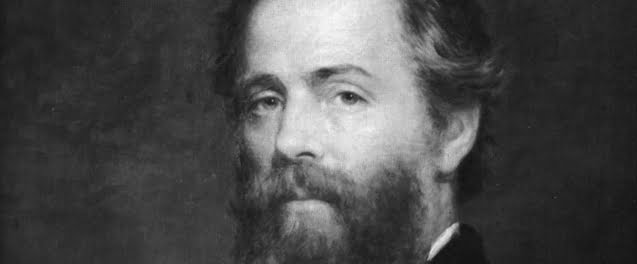 Moby-Dick, Herman Melville's albino whale
To listen to this post, click here –
On this day in 1851 the novel Moby-Dick, by Herman Melville was published. The book flopped, and it was many years before it was recognised as an American classic.
Melville had been a sailor himself and had worked on whaling vessels in the Pacific. Moby-Dick is an enthralling read and the dangerous life of a 19th century whaler is fascinating enough, without the brooding and obsessive presence of the monomaniacal Captain Ahab, bent on wreaking vengeance on the great white mammal.
Melville probably based his work on earlier accounts of an albino whale known as 'Mocha Dick' that had attacked several ships. It took him nearly two years to write the book that DH Lawrence called: "one of the strangest and most wonderful books in the world."
Melville also wrote poetry. Here is a mournful example that might have been written by Ahab himself, Dirge:
We drop our dead in the sea,
The bottomless, bottomless sea;
Each bubble a hollow sigh,
As it sinks forever and aye.
We drop our dead in the sea, –
The dead reek not of aught;
We drop our dead in the sea, –
The sea ne'er gives it a thought.
Sink, sink, oh corpse, still sink,
Far down in the bottomless sea,
Where the unknown forms do prowl,
Down, down in the bottomless sea.
'Tis night above, and night all round,
And night will it be with thee;
As thou sinkest, and sinkest for aye,
Deeper down in the bottomless sea.
Today I ask to be free of the corrosive effects of obsession and revenge.